Dressage is an elegant sport to admire both in its execution and the appropriate attire and tack worn by the horse and rider. It's very tempting, though, to want to dazzle the spectators and judges in the arena with your co-ordinated outfit as much as with your carefully rehearsed performance, but it's important to know how to dress for dressage.
Unlike other equestrian disciplines, which generally involve getting down and dirty, dressage is smart and sassy. While your appearance doesn't enter into the judging criteria, it certainly helps if you present the right image.
Looking good can go a long way to boosting your confidence, and the fit of your garments can certainly help the adjudicators when it comes to assessing your seat in the saddle
The British Dressage official rule book has several pages devoted to regulation dress for horse and rider when it comes to competing in the various levels of the sport. Most of us, though - even the most green novice - have a pretty good idea of what's required in the wardrobe department for a devotee of dressage.
In general, sparkly accessories are an anethema to dressage judges - but you can sneak in some discreet bling if you want to brighten up your performance!
Here are some hints and tips about how to dress for dressage and ensure your turn-out is terrific when you hit the dressage arena:
THE RIDER'S DRESS FOR DRESSAGE
Choose a dark-coloured jacket (tails are only worn in advanced competitions) that fits like a glove. It's worth having your jacket bespoke tailored, so it hugs you, particularly around the middle and back. A loose, floppy fit can make you appear to be slumping in the saddle, hiding the straight, strong back you need in the competition.
Equetech Jersey Jacket
Don't try to hide a crumpled shirt and stock beneath your jacket! You can never be sure how hot the day may turn out to be, and the competition authorities may decide everyone should compete with no jacket required. A neat and clean white shirt and stock looks smart and professional. You can certainly add a bit of bling to your outfit with a fashionable crystal stock pin.
Ideally you will go for white jodphurs or breeches, but they're not the most practical choice. Beige or cream are just as good, but make sure you match your gloves with them (white gloves can be a hazard, highlighting shaky hands on the reins if you're nervous!). Elasticated, slim-fitting breeches are best, and beige probably the most flattering for the figure. Ladies should beware of panty lines showing. A few rhinestones on the pocket trim and a crystal-studded belt can add some discreet fashion touches.
When it comes to boots, and/or gaiters, go for black, polished to perfection. Well-shined plain leather or patent leather is preferable to enhance leg length.
Protective riding hats with a three point harness are required to be worn, with the possible exception of top level competition such as the Olympics, where top hats are de rigeur. If you're not sure of specific requirements at a particular venue check with the competition organisers. You can enhance your headgear with hat covers, as long as you stick to "conservative" colours.
Women should keep their long hair out of the way, preferably with a hairnet, for both appearance and safety's sake.
The wearing of body protectors and air jackets is optional.
DRESS YOUR HORSE FOR DRESSAGE
Woof Wear White Dressage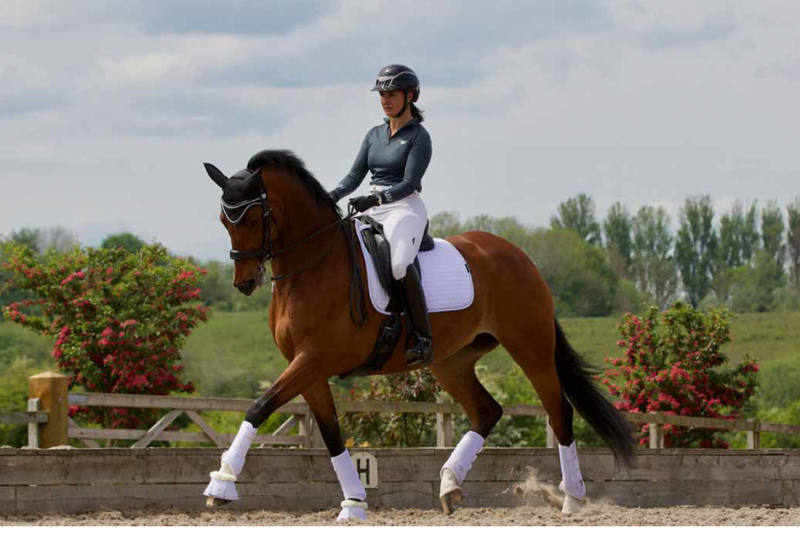 Dressage horses require minimal tack - they're not allowed to wear martingales, boots or wraps, for example. Keep it simple, smart and formal - black leather is the preferred option though dark brown, navy or dark grey are usually acceptable.
An English-style saddle - preferably one designed specifically for dressage (with longer flaps, straps and a short girth) - is required, usually positioned on a square white saddle pad. Most competitions allow a coloured edging on the white pad.
When it comes to bridles the favourite option is a plain cavesson with a flash noseband - double bridles are used in upper level competition. Grackles are now allowed in pure dressage. Your bridle gives you a chance for some embellishment - decorated browbands are allowed, so you can add a bit of bling. Steer clear of tassles or any other fancifications, though, including sheepskin covering of the noseband. You are allowed a discreet Mojo hologram if needed.
Your horse can wear a fly hood with ears in competition, as long as the horse's eyes aren't covered, and these should be "discreet in colour and design" according to the rule book.
If you enjoy decorating your horse, the operative word in dressage is "discreet"! The most you can stretch to in the rules are diamante plaiting bands, and if your horse is inclined to kick a little red bow on the horse's tail is permitted. Forget about glitter, ribbons or flowers - these fall under the definition of "unnatural items" which are best kept for your own amusement a long way from the dressage arena!
Enjoy dancing around the arena with your well-trained horse - there is no more satisfying feeling than dressing up and doing dressage!