We're in another Covid lockdown, but that doesn't mean you have to put your horsey Christmas shopping on the back burner! In fact, it's the ideal time to kick back, relax and browse through our online Christmas Shop. Get your orders in early for delivery before the last minute rush!
If you're looking for ideas, we've got plenty of goodies to brighten up Christmas for your horse or pony, and everyone you know and love who appreciates all things equine or equestrian.
Horsey Christmas Advent Calendars
First on the list should be those exciting Advent calendars – perfect for hanging in the stable to count down the days to Christmas. Advent is a liturgical tradition that originated in Germany back in the 1800s, building the anticipation to Christmas – something you can still enjoy with your pets today (yes, we have doggy advent calendars too!).
I have to confess my personal favourite is the Thelwell Advent Calendar, each little window hiding a special treat for your horse or pony.
Great Horsey Christmas Gifts for your Four-footed Friends
Now let's get down to some serious shopping for your beloved furry friends!
The way to a horse or pony's heart is through his stomach, so make sure you have a Christmas stocking full of tasty treats – like the Lincoln Horsebix Christmas stocking. You can go crackers too, with an Equilibrium cracker full of healthy, delicious crunchits.
Likit is a brand horses literally lap up, and there's a tasty selection box of treats available or a luscious lick "starter" set to tickle his taste buds and keep him happy in the stable.
Christmas is a time for fun, too, so why not give him the challenge of a colourful Hay Play ball – hours of entertainment and great for forage feeding.
Of course, you'll want your horse to look the part, so he'll need some Santa gear! Hy has a wonderful range of equine clothing and accessories so your horse or pony can get his jingle on and dress to impress.
Horsey Christmas gifts for Pony Mad Kids
You're spoilt for choice when it comes to finding gifts and stocking fillers for young equestrians!
Rainbow Pony Publishing has a fun selection of colouring, activity books and pencils, and Equetech offers a festive collection of helmet covers to get everyone into the Christmas spirit safely. Then there's books and gorgeous gloves, grooming kits and pony paint – not to mention the beautiful Caroline Cook prints that are just the thing for decorating the bedroom walls.
Horsey Christmas Gifts for Grown Ups
Don't confine yourself to our Christmas Shop when choosing gifts for your horsey friends and family members – or treating yourself, come to that. We've got loads of lovely stuff right across our E-shop, so don't be shy to browse and buy!
May we suggest a stylish stock, or a bit of bling with a glittering stock pin? We've got beautiful belts, cosy ear warmers and snoods, designer Toggi riding socks and so much more.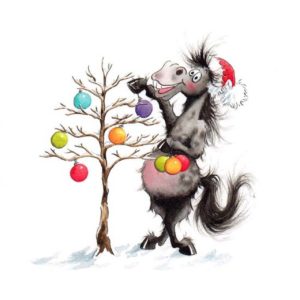 To wrap it all up, don't forget to check out the charming range of equestrian Christmas greetings cards and gift wrap by Dorset artist Trish Williams – guaranteed to delight.
No need to fear that this Christmas will be a bit of a let down because of cruel Covid! Totally Tack is determined to make it the best happy horsey Christmas ever!